News
31-Jul-2019
The Golden Thailand of South East Asia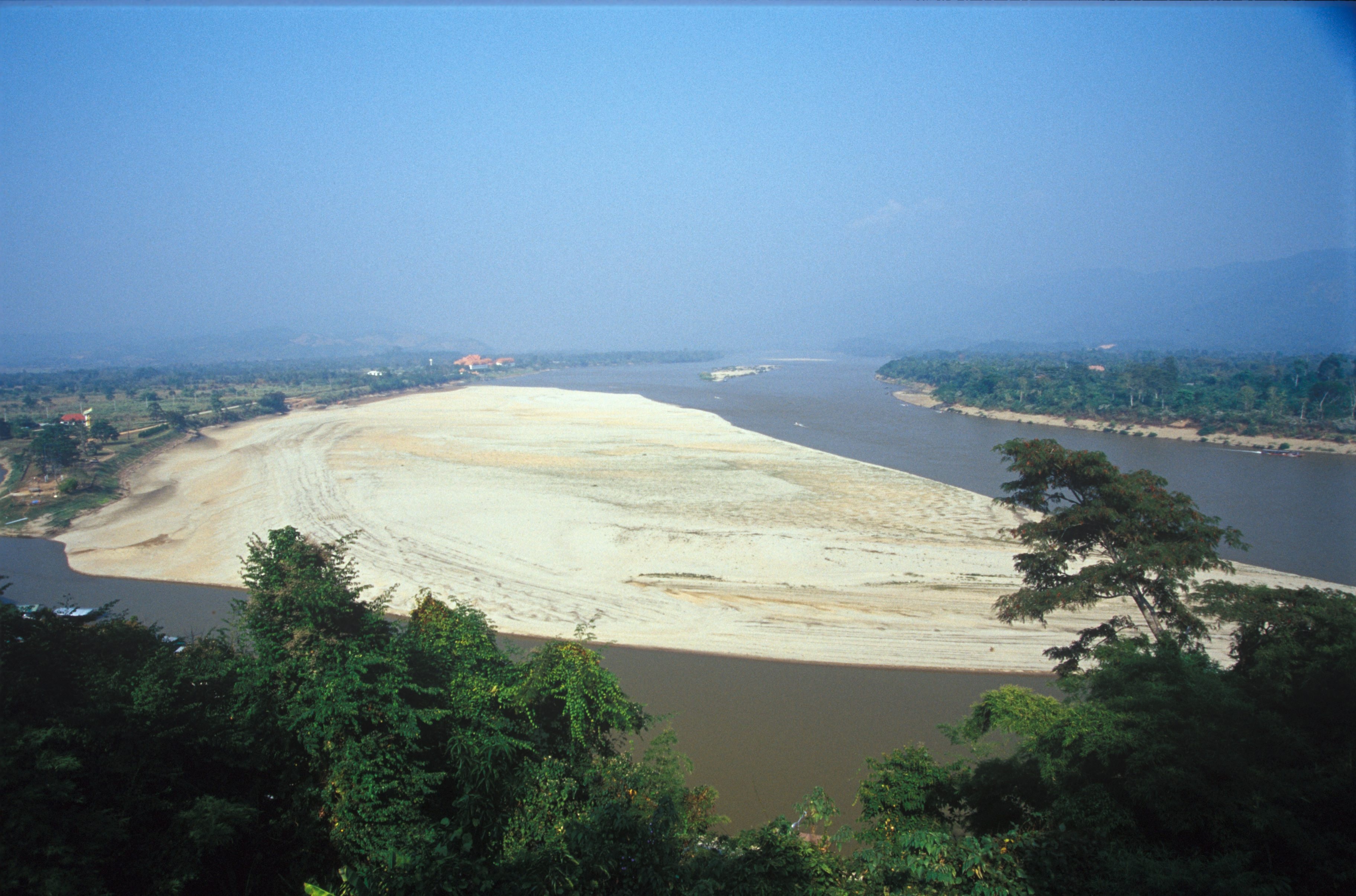 The Golden Thailand of South East Asia Locally known as Sop Ruak, the Golden Triangle is the area where the borders of Thailand, Laos, and Myanmar meet at the convergence of the Ruak and Mekong Riv...
The Golden Thailand of South East Asia
Locally known as Sop Ruak, the Golden Triangle is the area where the borders of Thailand, Laos, and Myanmar meet at the convergence of the Ruak and Mekong Rivers. The term refers to an area of over 950 000 square kilometers that encompasses the mountains of the three countries.
This northern corner was a stronghold of the Lanna culture that prevailed for centuries and was once called the 'land of a million rice fields' and renowned for its scenic beauty. Chiang Rai is a laid-back gateway city on the banks of the Kok river and became the first capital of the Lanna kingdom in 1262, under King Meng Rai, and has landmarks such as the Wat Rong Khun, or White Temple.
The Golden Triangle gained notoriety in the 1920s as an area well-known for the growing of opium, and the name comes from a US State Department memo referencing the practice. The Thai government made poppy-growing illegal in 1959 and brought in crop-substitution programs for farmers with a highly successful project initiated by the Royal Projects Foundation of His Majesty King Bhumibol Adulyadej.
These days the area is a popular tourist attraction with a story of transformation for the communities that live here. The landscape is mountainous, and the area is now peaceful with tranquil dotted hill tribe villages, ancient temples and markets.
Activities and Attractions
On the Thai riverside near the point where the rivers meet, a sandbar becomes visible during the winter months. Here you'll find a giant golden Buddha on a ship, elephant statues, shrines to the royal family and signs declaring that you are indeed at the Golden Triangle. Take a photo at the gate marking the spot.
On the hill is Phra That Doi Pu Khao believed to have been built in the 8th century. Remains of antiquities can be seen, as well as crumbled Chedis and two large multi headed Naga snakes at the bottom of the stairway protect the temple. On the Thai side of the river where all three countries can be seen from the viewpoint is the Golden Triangle Park, the entrance gate adorned with sculpted elephant statues welcoming visitors to the Golden Triangle.
A good way to explore the gently rolling countryside of the Golden Triangle is by bike. Spice Roads (www.spiceroads.com) offers a two-night cycling tour that starts and ends in Chiang Rai. The tour covers 118km and skirts the banks of the Mekong, visiting local landmarks such as the Opium Museum. Alternately go on a boat ride across to a small island named Don Sao, which belongs to Laos. No visa for Laos is required to make this trip and many small boats offer this service.
The Hall of Opium
is a large museum that shows the history of opium around the world and in the area, the process of production and the effects of opium smoking, as well as campaigns that were put in place to eradicate and substitute the crop. Entrance to the museum is through a tunnel with sculpted depictions of people suffering the pain and horrors of drug addiction. There is a section on the British Opium Wars and information on the hill tribes in the area that used to grow opium poppies, as well as information on the successful project initiated by the Royal Projects Foundation that eradicated poppy cultivation in the region giving local farmers an alternative option of growing crops like coffee, rice, flowers and many sorts of fruits and vegetables now sold all over the country.
The House of Opium is privately run museum, unrelated to and much smaller and more serious in tone than the Hall. Lots of opium paraphernalia and information on the production process from beginning to end.
One of the best ways to see this part of the countryside is from the Mekong river. The Luang Say is a traditional teak river barge that works the route along the Mekong River from the heart of the Golden Triangle at Houie Say in Laos, 200 miles downstream to the Unesco World Heritage-listed city of Luang Prabang, also in Laos. The two-day journey slides through the lushly forested countryside, docking in to visit hillside tribal villages as well as a night at a traditional-style lodge in Pakbeng on the banks of the river.
Where to stay in the Golden Triangle
– With views over the Golden Triangle, the Anantara Golden Triangle Elephant Camp and Resort is an award-winning hotel with its own rescue organisation working to bring elephants from the streets of Bangkok to its adjoining camp which is home to 25 elephants and their carers.
– The Four Seasons Tented Camp Golden Triangle has been voted the number one hotel in the world by Conde Naste Traveller and offers an all-inclusive experience with guided tours.
– Imperial Golden Triangle Resort overlooking the Mekong and Ruak Rivers offers accommodations with scenic views and a good base from which to explore the Golden Triangle.
– Numerous guesthouses and hotels can be found on the Thai side of the river, however some visitors opt to stay in Chiang Saen, Chiang Khong and Chiang Rai, and take day-trips from there.
To get to the Golden Triangle there are regular flights from Bangkok to Chiang Rai, from there buses, transfers and organised tours can be booked. It's also an easy drive from Chiang Saen along the road that runs parallel to the Mekong River, if preferred.
30-Jul-2019
Cross Hotels & Resorts Continues Expansion into Global Visitor Hotspot, Phuket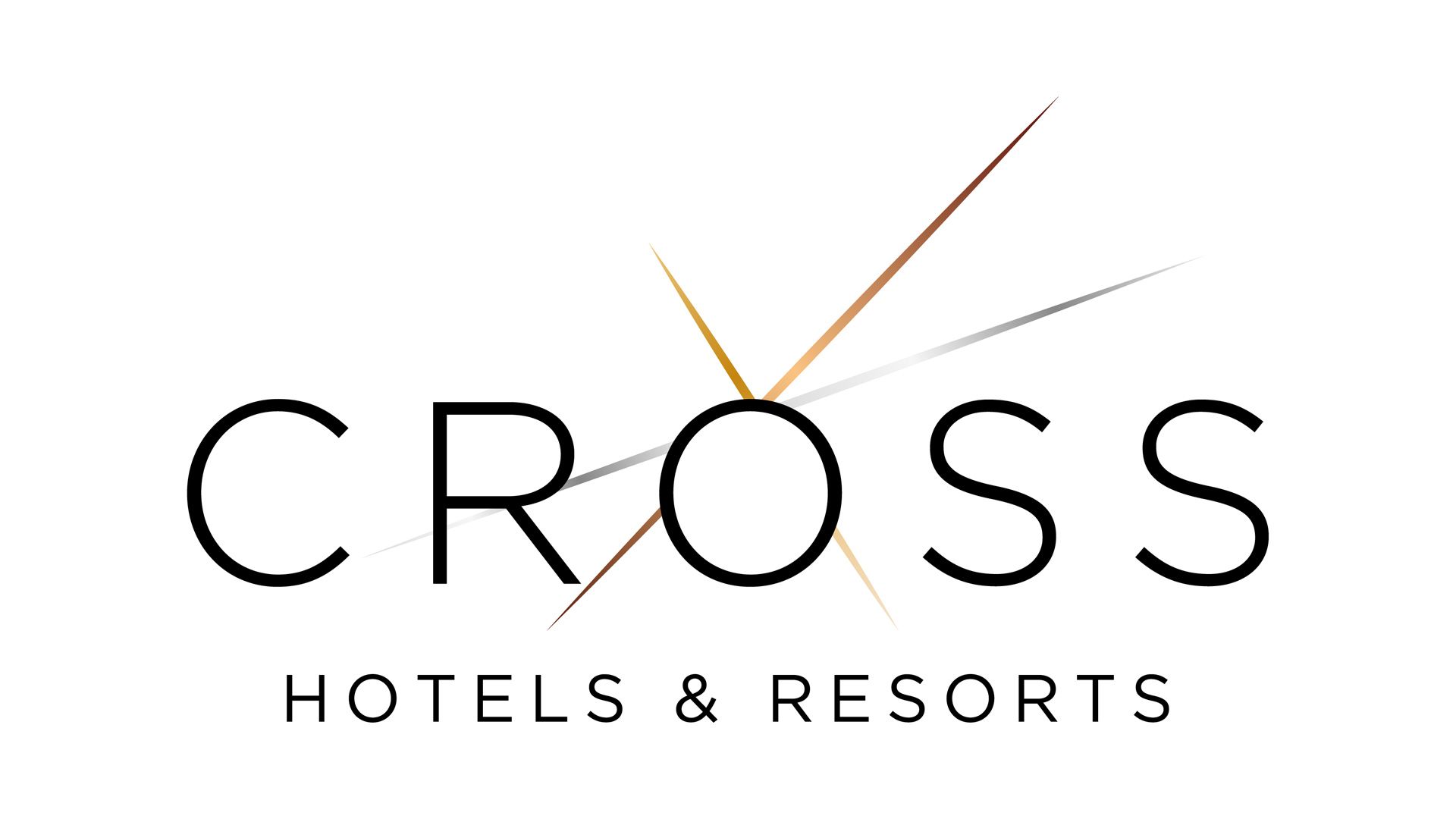 Bangkok, Jul 22, 2019 – Leading hotel management company Cross Hotels & Resorts has continued its strategic expansion into the global visitor hot spot of Phuket, announci...
Bangkok, Jul 22, 2019 –
Leading hotel management company
Cross Hotels & Resorts
has continued its strategic expansion into the global visitor hot spot of Phuket, announcing today its third hotel management agreement on the Thai island.
Phuket has been included in the 'World's Best Places to Visit' and 'Best Places to Visit in Asia' 2019 rankings released by U.S. News & World Report. Phuket was ranked number eight out of 30 in the 'World's Best Places to Visit' list and number three out of 15 in the 'Best Places to Visit in Asia' list.
Cross Hotels & Resorts
is very pleased to announce the signing of a hotel management agreement with PT Three Land Co., Ltd. for its third Phuket property, X2 Vibe Phuket Patong Center.
The hotel enjoys a strategic location in the center of Phuket Patong Beach. Set to open in mid-2021, it is only 50-minutes' drive from Phuket International Airport and a 10-minute walk to Patong Beach and the bustling Bangla Walking Street.
X2 Vibe Phuket Patong Center offers 323 guestrooms, all day dining restaurants, café and bar, meeting room and fitness facilities. Key features include specially designed family rooms and state-of-the-art kids club, large, adult swimming pool with sunken DJ Bar, underwater speakers, relaxing music and cocktails.
X2 Vibe Phuket Patong
is perfectly located close to key tourist attractions, large shopping mall and a two-minute walk from the beach. It features 136 modern rooms and villas and facilities including large central swimming pool and sundecks, spa, fitness center, restaurant, bar and meeting facilities.
Away Phuket Le Coral
is currently undergoing renovation with completion scheduled for late this year. Located on the beachfront of Natai Beach in Phang Nga Province, the hotel is only 40-minute drive from Phuket International Airport. Featuring 58 suites, it offers guests the experience of unspoilt nature and a beautiful, peaceful and relaxing atmosphere complete with private beach stretching along the Mangrove Forest Reserve. Highlights include nature inspired designer rooms, spectacular sea view infinity pool, restaurant and bar, spa, island tours, treks through virgin jungles and rafting adventures along scenic lakes and rivers.
Cross Hotels & Resorts
CEO, Peter Lucas said the company was very pleased to be signing its third hotel in Phuket within the past 12 months.
"It is a significant milestone to be adding X2 Vibe Phuket Patong Center to our growing portfolio of hotels in Phuket – officially recognised as one of Asia and indeed the world's best places to visit,'' Mr. Lucas said.
"It reinforces that we are delivering on our stated development aspirations of acquiring quality hotels with large inventories in the world's most popular visitor destinations and gateway cities."
"Phuket has been clearly identified as a key target destination for
Cross Hotels & Resorts
now and into the future,'' he said.
Cross Hotels & Resorts
EVP Commercial, Paul Wilson said the company was passionate about delivering unique commercial solutions for hotel owners and enriching experiences for our guests.
"We operate distinct and aspirational brands for scalable and sustainable growth and have a strong pipeline of future acquisitions in place."
"The signing of our third hotel in Phuket is very exciting and only the beginning of what we have in store for this thriving global destination," he said.
About Cross Hotels & Resorts
Cross Hotels & Resorts
is an international hotel management company wholly owned by the ASX listed Flight Centre Travel Group (
FCTG
).
FCTG
is one of the world's largest and progressive travel companies, incorporating diverse worldwide distribution, in destination travel experiences such as transport and touring as well as hotel management solutions.
Cross Hotels & Resorts
is a part of
FCTG
's Global Hotel Network providing management for hotels, resorts, villas, serviced apartments and branded residences.
Cross Hotels & Resorts
also delivers owner services all the way from the very early sourcing & planning stages of a development, through technical services during build, to pre-opening services and finally professional ongoing hotel management. Visit
crosshotelsandresorts.com
for more information.
22-Jul-2019
Revamped, innovative format of TTM+ 2019 proves to be a resounding success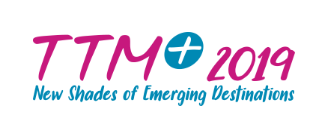 Bangkok, 3 July 2019 – The revamped, innovative and creative content and business format of the 2019 Thailand Travel Mart Plus (TTM+) proved to be a resounding success, as indicated by the ...
Bangkok, 3 July 2019
– The revamped, innovative and creative content and business format of the 2019 Thailand Travel Mart Plus (TTM+) proved to be a resounding success, as indicated by the post-event survey responses from buyers, sellers and participants.
Held between 5 – 6 June, 2019, at the Ocean Marina Yacht Club, the 18th TTM+ was highlighted by the participation of new buyers and media from new source markets, new exhibitors from Thailand's emerging destinations, a line-up of all-Thai speakers at the knowledge-sharing platform, new tours linking the Eastern Corridor of Thailand to neighbouring Cambodia, a product showcase for community-based enterprises, and total dedication to environmental preservation.
Mr. Yuthasak Supasorn, TAT Governor, said, "As this is an era of constant change, especially for travel trade shows, we decided it was time to change the entire concept of the TTM+ in order to ensure that everyone gets value for time and money. Thanks to the feedback from all the sectors."
Under the theme of "New Shades of Emerging Destinations", the event was held for the second consecutive year in Pattaya to emphasise its new image as a tourist destination for families and luxury travellers with a broad diversity of tourism products and services.
TAT invited 338 buyers from 51 countries. In addition to top markets; such as, China (64), the UK (25), and India (23), the invitees included carefully-selected buyers from emerging source markets; such as, Argentina, Azerbaijan, Brazil, Chile, Colombia, Egypt, Estonia, Kazakhstan, Kosovo, Kyrgyzstan, Latvia, Lebanon, South Africa, Turkey and Ukraine.
To ensure the participation of serious buyers, all hosted buyers paid a US$ 300 registration fee, non-hosted international buyers paid US$ 200, and domestic buyers, US$ 100.
The number of exhibitors totalled 370, of whom 89 were first-timers to the TTM+. By category, the exhibitors included Hotels and Resorts (277), Emerging Destinations (20), Associations (9); Entertainment Businesses (12); Tour Operators/Travel Agents (23), private companies from the GMS countries (10); National Tourism Organisations from the GMS (10); and other travel services (9).
Sellers paid a registration fee of 35,000 Baht for 2 delegates.
The media list included 50 domestic and 84 international media from 26 countries including emerging markets; such as, Poland, Vietnam and Latvia.
Based on the online survey responses from 72% of buyers and 38% of sellers, the event was expected to generate 2.77 billion Baht worth of economic and business value. A total of 59% of the buyers and sellers said they entered into immediate business contracts, a strong indication that the trade show was attended by decision-makers on both sides.
Nearly all the buyers (99.18%) reported meeting new sellers; 97.92% said they had received more up-to-date information; 89.71% said they were satisfied with their participation, and 93.80% said they had achieved their business goals.
Moreover, 93% of the buyers felt the registration process was more organised and convenient; 92.47% felt that the sellers were of good quality, and 88.84% were satisfied with the products and services they saw.
Asked specifically about the potential of the "Emerging Destination Show Case", 85.06% of the buyers felt that the products and services offered had the potential for inclusion in future tour programmes.
Most of the buyers (85.19%) intended to join the TTM+ in 2020. Amongst the sellers, 90% said they were satisfied with the event and would join again next year. Media monitoring indicated an estimate of 111 million impressions amongst readers and viewers.
TAT also invited 41 entrepreneurs from the emerging destinations in 17 provinces to attend as observers to learn more about the show and business opportunities.
The TTM+ Talk focussed on the entire new theme "Making the World a Better Place through Travel". It included a line-up of 10 speakers, thinkers, entrepreneurs, designers, media, IT specialists and historians to provide new perspectives on how change can positively contribute to society and the environment.
The post-tour programme was designed to cement the land links between Thailand and the Greater Mekong Subregion countries. One of the tours was a five-day, four-night itinerary covering Pattaya – Rayong – Chanthaburi – Battambang – Siem Reap, showing that it is possible to go all the way to the famed temples of Angkor Wat.
The TTM+ was also a heavily environmental conscious event with reduced usage of plastic and non-degradable materials; such as, plates, bowls, forks, water tubes, etc., drinking water available from water dispensers, waste separation, use of an e-Directory and e-Survey to reduce paper usage, open-air activities in some areas to reduce energy consumption, zero usage of plastic bags, and reusable neck-straps. All the waste materials were recycled.
Community-based enterprises showcasing their products included the tie-dye fabric at Banmatjai Homemade, Phrae province; Varni Handicraft, Phatthalung province; indigo-dyed fabric, Sakon Hed Group, Sakon Nakhon province; folk charm dyeing fabric, Loei province; Doister ethnic products, Mae Hong Son province, and hand-dyed indigo fabric products, Keep Kram from the Northeast.
This year, the five co-sponsors were the Chon Buri Provincial Administration, King Power International PCL, Thailand Convention and Exhibition Bureau (TCEB), Bangkok Airways PCL and the Airports of Thailand PCL.
ENDS
17-Jul-2019
The Annual Ubon Ratchathani Candle Festival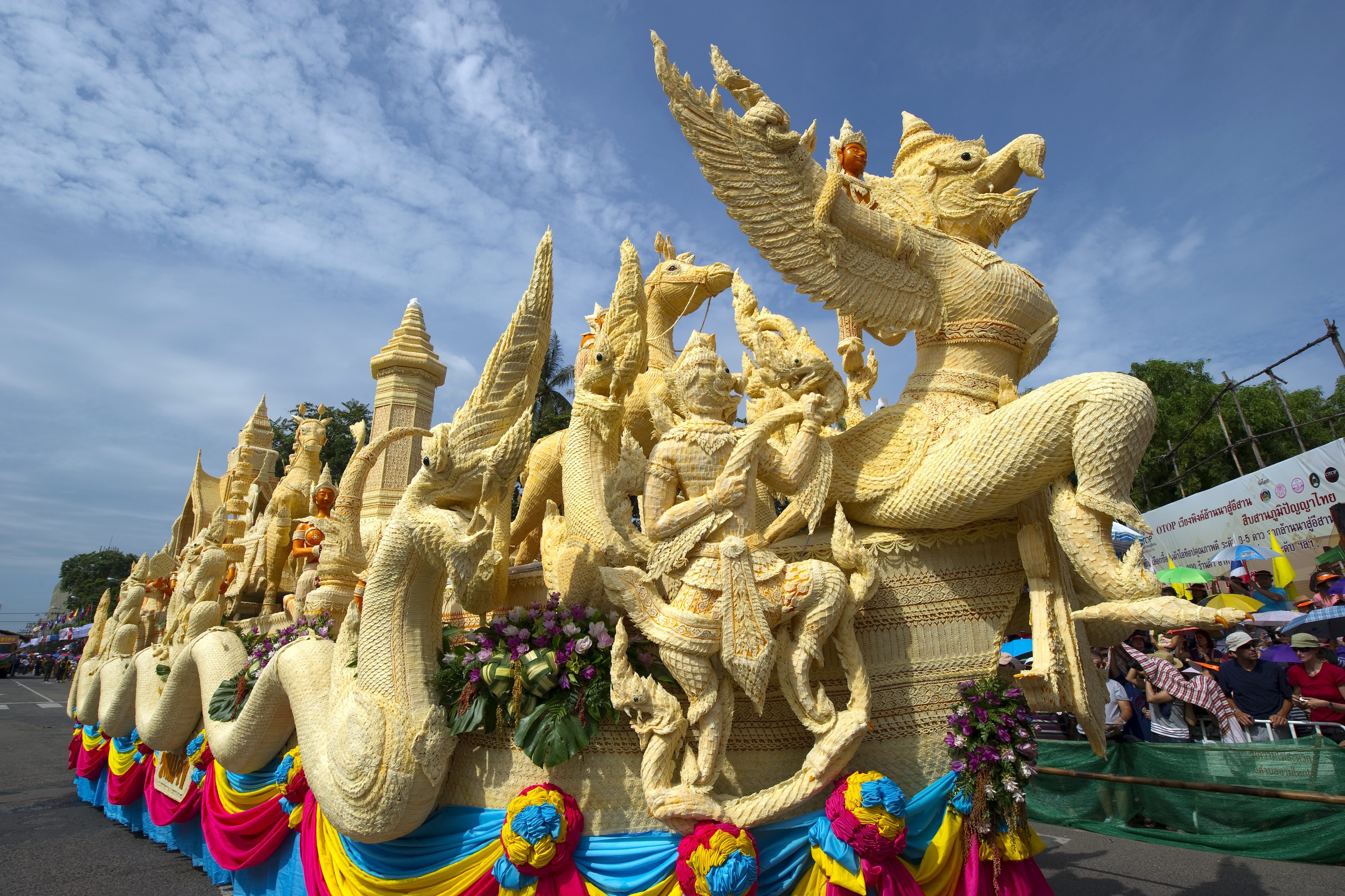 The Annual Ubon Ratchathani Candle Festival The start of the rainy season is marked each year by one of the most beautiful celebrations in Thailand as Ubon Ratchathani prepares for Buddh...
The Annual Ubon Ratchathani Candle Festival
The start of the rainy season is marked each year by one of the most beautiful celebrations in Thailand
as Ubon Ratchathani prepares for Buddhist Lent and artists set about moulding and sculpting Lenten candles. These impressive works of art are presented to Temples as Buddhist merit-making offerings and serve as fine examples of Buddhist art and sculpture.
The candle festival is unique to Ubon Ratchathani province and the customs and traditions have been preserved by local communities for generations.
The origin of the Candle Festival can be traced to the days
before the arrival of electricity when Thai Buddhists donated candles to their local temples to ensure the monks had light to study during the three month long Buddhist Lent. Originally a tradition performed to accumulate merit, the donation of candles turned symbolic after the arrival of electricity, and the candles ever more decorative and elaborate.
The festival takes place during Asahna Bucha and Khao Phansa days, two important Buddhist events that celebrate Buddha's first sermon at Benares in India, and the beginning of the three month Khao Pansa or Buddhist Lent.
This year Asahna Bucha falls on 16 July and Khao Pansa on 17 July.
Lent is a time of Buddhist spiritual renewal and the monks in Thailand largely retreat to their temples to study and meditate. Many Thai young men are ordained as monks during this period.
One of the festival's highlights is the candle and float procession through town on the morning of Khao Phansa day, with large groups of Thai girls and boys in traditional dress performing Thai dance and music. The streets are crowded with onlookers and the ambience resembles that of a carnival. The elaborately decorated floats are bright and colourful, with prizes for the most impressive ones, as well as the most beautiful candle sculptures.
The giant candles that are paraded through the town represent local temples, districts or institutions. The more elaborate versions are accompanied by scenes of Hindu and Buddhist mythology sculpted in wood or plaster and coated with wax. Of course, these are never burned.
Don't miss the international sculpting competition on Asahna Buchna day, which is held in Thung Si Muang Park in the town's centre. Both local and international teams make large wax candle sculptures which can reach up to 20 metres in height and are decorated with Thai patterns and scenes from the Ramayana. They are exhibited throughout the evening and there are usually small processions with burning candles at different temples around town.
There are nationwide restrictions on the sale of alcohol for the two day period covering Asahna Bucha Day and Khao Phansa Day. This means that most bars and clubs in Ubon Ratchathani close for a 48-hour period, but this doesn't dampen the fun with all the music, delicious food, theatre,
muay Thai
boxing contests and dance to be enjoyed.
NOTE: It is recommended to confirm the times of the parades with your hotel or the local TAT tourist office upon arrival. There is an information counter at the Ubon Ratchathani airport.
The Candle Festival is celebrated in several places in Thailand, but the most famous and popular spot remains Ubon Ratchathani, a major city in the Isaan region of Thailand about 500km northeast of the Thai capital Bangkok.
The Ubon Ratchathani Candle Festival is very popular and attracts visitors from all over Thailand. Flights from Bangkok to Ubon Ratchathani are often booked out and accommodation is at a premium, so you'd do well to make arrangements well in advance. It's best to stay within walking distance of the Thung Si Mueang Park festivities. Arrive a day in advance to allow time to visit the artists in the local temples finishing the decoration of their candle floats.
01-Jul-2019
The Highly Anticipated Pattaya Marathon
The Highly Anticipated Pattaya Marathon The Pattaya Marathon in the Chon Buri province is suited to any and all runners, with thousands from around the country – and the world – c...
The Highly Anticipated Pattaya Marathon
The Pattaya Marathon in the Chon Buri province is suited to any and all runners, with thousands from around the country – and the world – congregating here each year to participate.
A major international sporting date on Thailand's calendar of festivals and events, 2019 will mark the 28th edition of the race with runners ensured picturesque coastal scenery in the host seaside city of Pattaya, just 140km from Bangkok. This is in line with the Tourism Authority of Thailand's exciting 'Open to the New Shades' drive to bring visitors to experience Thailand from a new perspective.
The Pattaya Marathon full route begins at Central Festival Pattaya Beach on Pattaya Beach Road and runs alongside Jomtien beach, passing Pattaya walking street, Bali Hai Pier and Borommaratchachonnani Bridge on the way and includes a challenging uphill stretch towards Khao Phra Tamnak, Sukumvit Road and Chaiyaphruek Road before turning back to Pattaya Beach Road and the finish line.
Events include a 42km full marathon, a 21km half marathon a 10.5km run and a 3.7km fun run for students. Started in 1991, the event is always enjoyed by all who participate, and their support base.
Runners of the full marathon start off at 3am local time and finish at their own pace into the afternoon.
The half-marathon begins at 05.10am from Bali Hai Pier and follows the same route as the full marathon from this point, while the quarter marathon starts from Bali Hai Pier at 05.45am, passing the lighthouse and Pattaya view point before continuing downhill and back to the starting point for the finish. The wheelchair quarter marathon starts at 06.20am, and the students fun run at 06.30am.
The date for 2019 has been set for Sunday 21
st
July.
The event is organised by the City of Pattaya and had a total of 10 000 participants in 2018. The City of Pattaya plans to significantly improve the marathon in the coming years, in an ongoing effort to establish Pattaya as a leading sports city, given all that it has on offer.
Due to the numerous visitors during the Marathon and the high demand for accommodations it is recommended to check hotel rates and book rooms well in advance. The route may deviate somewhat from what we've described, this will be confirmed on the day.
About Pattaya, Chon Buri
Chon Buri is a Thai province set on the country's eastern Gulf of Thailand that is renowned for its popular coastal towns. Among them is Pattaya, a quiet fishing village as recently as the 1960s, it is now an established resort town with a seafront promenade, high-rise condos, fine restaurants, shopping malls and a busy nightlife scene. On the hillside nearby is Wat Phra Yai Temple which houses an 18 metre tall golden Buddha. There are also several designer golf courses in the area, some with uninterrupted views across the beautiful Pattaya Bay.
Pattaya Marathon Contact Details
Tourism Authority of Thailand, Pattaya Office
Tel. +66 (0) 3842 7667; +66 (0) 3842 8750
For international bookings, mail for additional information.
26-Jun-2019
A Day Trip to Songkhla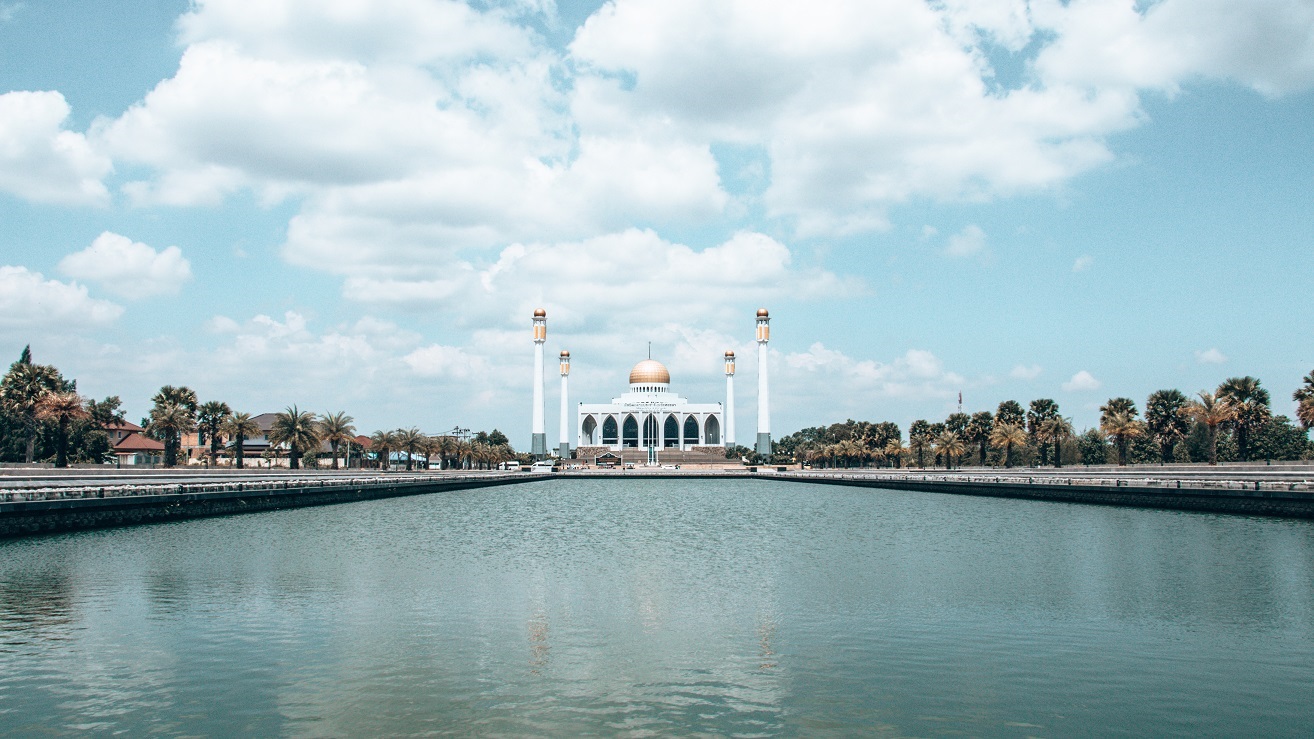 A day trip to Songkhla A day trip to SONGKHLA! We spent the day driving through Hat Yai and greater Songkhla visiting some of the must-see attractions the province has to offer.&nbs...
A day trip to Songkhla
A day trip to SONGKHLA! We spent the day driving through Hat Yai and greater Songkhla visiting some of the must-see attractions the province has to offer.
We first stopped at the magnificent ""มัสยิดกลางประจำจังหวัดสงขลา"" or Central Mosque. This is known as the ""Taj Mahal"" of Thailand and is as impressive as the photos suggest! Be aware though, it's incorrectly labeled on Google Maps, so just follow the link below.
Next, we needed some good food, so why not stop at one of the most famous noodle shops in the province? Head to ""Pork Tail Noodle"" or ก๋วยเตี๋ยวหมูหาง for an authentic, cheap and delicious meal!
No meal is complete without dessert, of course, so we headed straight across the road to ""Miss Universe Ice-cream"" or ไอติมโคมนางงาม แอท สงขลา. Hold your breath and say yes. Take the egg yolk on the shaved ice-cream, it's traditional, it's an experience and it's hardly even noticeable – at least you can say you have done it! Now we move on to…
Old Town. Filled with narrow alleys, interesting and eclectic architecture and tons of street art! There are maps and signposts, but we just went exploring because there are always new and fun things to see! You can literally spend as long as you want to, don't set a time limit here. There are coffee shops, cafés and ice-cream parlours all along the way – you will be fine!
Ban Nakhon Mueang Songkhla roughly translates to "the house in Songkhla". It's a collection of artworks and artifacts (as well as photographs) as homage to the late King, Rama IX. If you are a fan of Thai history, this is a great place to garner some more of it!
We photographed our way along the road, past a few jetties overlooking Songkhla Lake, ending at Hub Ho Hin. This used to be a rice mill, then an ice factory and now is a community arts center. It's big, red and unmistakable.
Finally, we made our way to a theme park, well 6 in fact. There are a few dedicated theme parks along the road to the dinosaur park and we weren't sure what we wanted to do, so we got a ticket that allows you into all of them. I must say, this is more for the kids, but it was pleasant enough. There is a dinosaur park, old western town, panda-and-heart park, ATVs, paintball, a waterpark, and an art (sculpture) park. You could have just spent the entire day here as a family, but for us, 2 hours was ample. We are confident this is the best way to spend a day in Songkhla, hey, we even did it ourselves! Check it out: http://tiny.cc/SongkhlaVideo Love Dear Travallure! Are you planning a trip there, have a look at some of our suggestions:
1.) Central Mosque: https://goo.gl/maps/gHhLAFJv8S1QFFWm8
2.) Pork Tail Noodle: https://goo.gl/maps/fm1JCbBcKXg2p8vr9
3.) Miss Universe Ice-Cream: https://goo.gl/maps/GkzNYqScnUT1u67C8
4.) Old Town: https://goo.gl/maps/emLtZvY3dML5nCt28
5.) Ban Nakhon Mueang Songkhla: https://goo.gl/maps/dsQnjv9Tn5LFcVTy8
6.) Hub Ho Hin: https://goo.gl/maps/Jtjfj64JZRjF4E9r8
7.) Theme parks: https://goo.gl/maps/EsSnsjcVnMHAJZst7″.
Submitted by Dear Travel Lure
24-Jun-2019
Koh Chang, a closer look at Elephant Island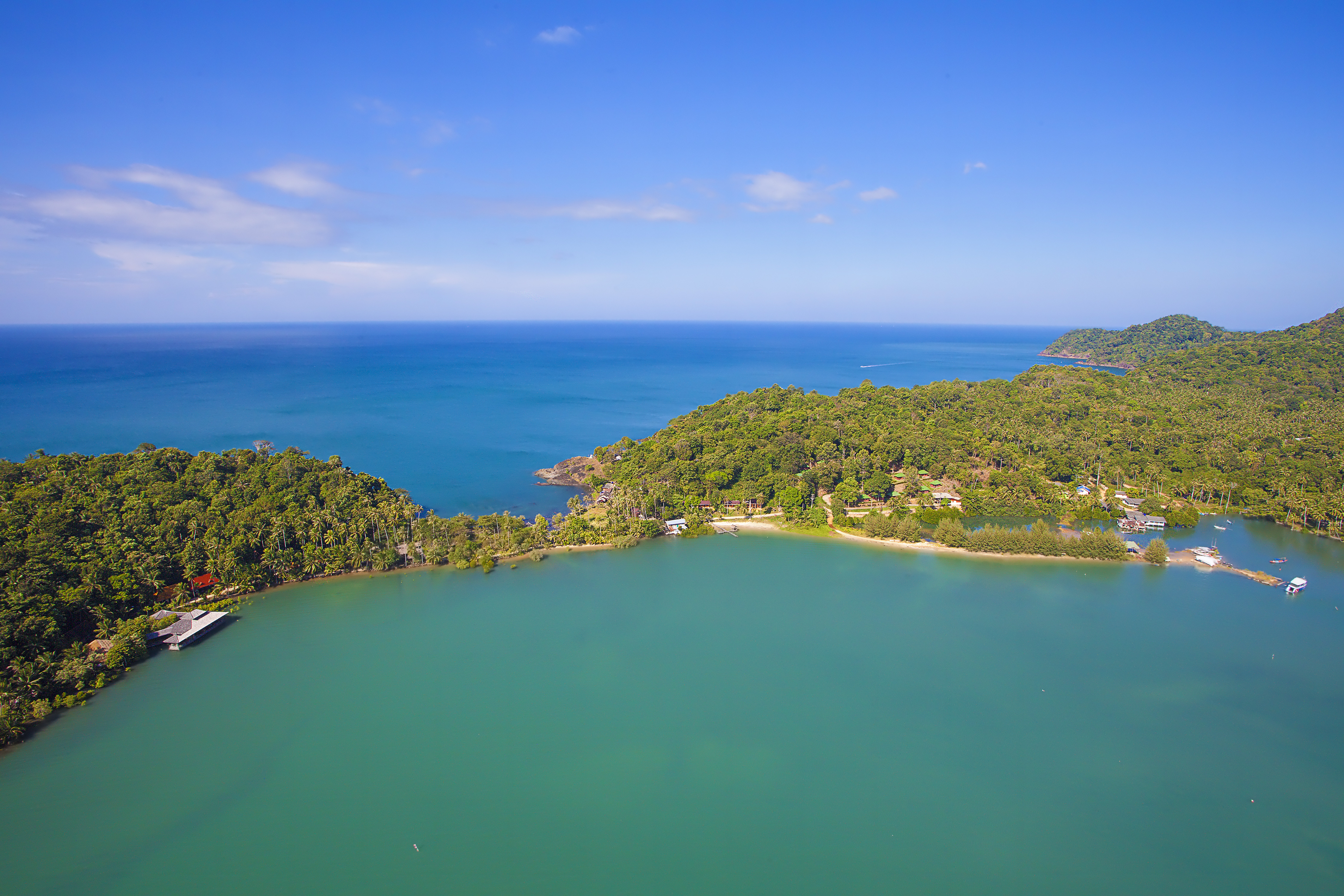 Koh Chang, a closer look at Elephant Island Thailand's third largest island after Phuket and Samui, Koh Chang is fondly known as 'Elephant Island' because of its mammoth size and ...
Koh Chang, a closer look at Elephant Island
Thailand's third largest island after Phuket and Samui, Koh Chang is fondly known as 'Elephant Island' because of its mammoth size and elephant shaped headland.
Forming part of the Mu Koh Chang National Park, it is located in the Gulf of Thailand around 300 kilometres east of Bangkok in the province of Trat. Known for its dense, steep jungles and hiking trails with impressive waterfalls, as well as offshore coral reefs and a shoreline that is dotted with beaches and villages, its easy to see why Koh Chang is increasingly popular with tourists.
With 70% of the land mass covered in natural rain forest, the island is not densely populated and there are only about 5000 permanent residents, which gives an authentic and relaxed look at Thai living. A wide range of wildlife including a good selection of birds, snakes, deer and a number of elephants also call Koh Chang home, while the surrouding waters provide excellent snorkelling and diving opportunities to enjoy the abundant ocean life.
A look at the history of the island
Prior to World War II, Koh Chang was little known to Westerners and barely populated. The few resident families there made a living growing fruit and coconuts. In January 1941 during the Franco-Thai War, the Thai Navy fought against a French attack in the waters south of Koh Chang. It was years later in the mid-1970s that the first free spirited and rather intrepid tourists started arriving to the island on local fishing boats. By 1982, Koh Chang, along with the surrounds, became part of the Mu Koh Chang National Marine Park. It is only in the past decade that Koh Chang has turned into a major tourist destination, both for foreigners and local Thais. This has brought on a large amount of development aimed at providing visitors with all that they could hope for on their South East Asian holiday.
A bit about the geography
Koh Chang is the largest island in the Koh Chang Archipelago. The name means 'Elephant Island', named for the elephant shape of its headland, although elephants are not actually indigenous to the island. Koh Chang is approximately 430 square kilometres in size with high mountains and steep rocky cliffs. The highest peak is Khao Salak Phet which is 744 metres high and the main source of fresh water on the island. There are many waterfalls, beaches and impressive coral reefs in the west of the island to enjoy.
Where to stay on Koh Chang
Most accommodation is located on the western side of the island, where the better white sandy beaches are, making the eastern side of the island less crowded. More than two thirds of the island remains undisturbed rainforest, steep cliffs, waterfalls and wildlife. Catering to a wide range of travellers from independent backpackers, honeymooners to family groups, you will find everything from budget-friendly chalets to five-star pool villas, whichever your preference – and budget. The most popular areas are around White Sand beach and Lonely beach, while Klong Prao and Kai Bae beaches are the best options for families and home to some of the island's best resorts, such as Emerald Cove Resort. Tucked up in the hills are numerous health resorts, that blend beach with wellness and yoga retreats.
Getting to and around Koh Chang
With an airport located just 20 kilometres away from the ferry terminal in Trat, Koh Chang is easier to get to than ever before and there are three daily flights from Bangkok's Suvarnabhumi Airport on Bangkok Airways. Alternately, look to taking a bus to the ferry terminal and cross from there. On arrival you can either make use of a private transfer or shared mini-bus to your accommodation.
Getting around the island is fairly easy. The main mode of transport is by songthaew, they also run from the ferry terminal stopping at all the beaches along the West Coast of the island. Another option is to rent a motorbike, there are literally countless places to rent scooters and all at very reasonable prices.
When best time to visit Koh Chang
The mild season runs from November to the end of February. This is when the island is at its busiest, with guaranteed daily sunshine, blue skies and calm seas. If you don't mind the crowds, this is the best time to visit and you can expect an average temperature of between 27C and 30C, with the occasional refreshing thunderstorm. The hot season follows and runs for 3 months, from March to April. During these months the temperature is over 30C most days and along with high humidity can get sticky. That said, Koh Chang is a year round destination and you can always dip into a pool or the ocean, to cool off.
19-Jun-2019
A Traveller's Guide to Pattaya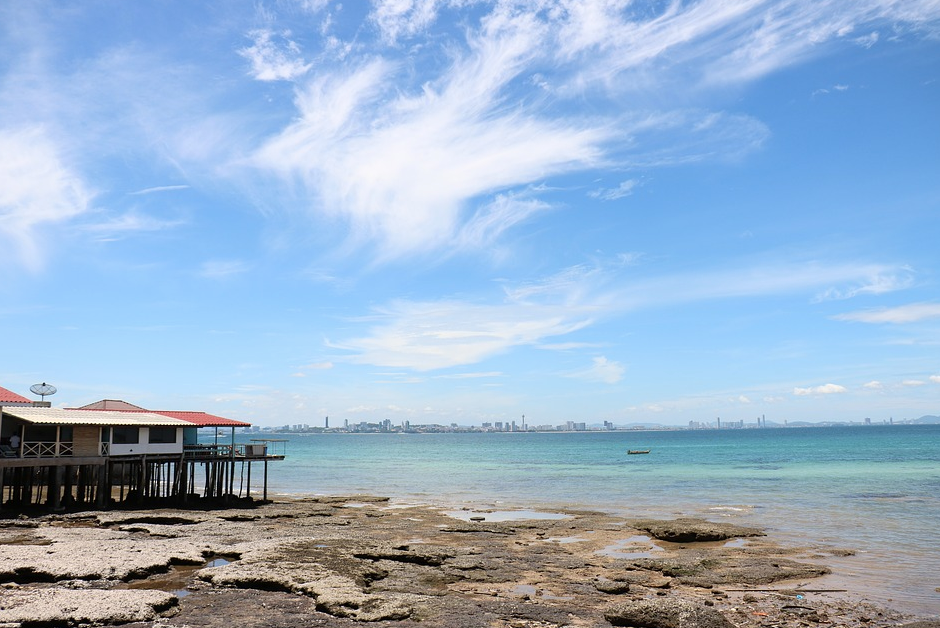 A Traveller's Guide to Pattaya It may be true that Pattaya on Thailand's east coast is well known for its gorgeous beaches, yet one should never lose sight of how much there is to...
A Traveller's Guide to Pattaya
It may be true that Pattaya on Thailand's east coast is well known for its gorgeous beaches, yet one should never lose sight of how much there is to discover and enjoy in and around this popular tourist destination. A quiet fishing village as recently as the 1960s, today the area is home to high-end beach resorts and hotels, upmarket apartment blocks, shopping malls, nightclubs and various entertainment outlets.
On the nearby hillside, Wat Phra Yai Temple's big golden Buddha has become synonymous with the city and the popular Khao Pattaya View Point on Pratumnak Hill draws the crowds wanting to get that classic shot of Pattaya's sweeping, crescent bay. There are several designer golf courses to be enjoyed, and as in all of Thailand, no shortage of shopping options with malls, supermarkets and countless independent stalls and souvenir spots appeasing the enthusiastic consumer. Other things to do and see include the following:
The Walking Street
Like most Thai cities, Pattaya is best discovered on foot and the sights and sounds of the Walking Street are a good place to start. There is nothing quite like the 500 meters of fun which is found in this entertainment district. Closed to vehicle traffic after 6pm, almost every building on both sides of the road is either a nightclub, bar or restaurant. This is where neon lights and music from food vendors, street performances and enthusiastic tourists come together.
Wat Phra Khao Yai or Big Buddha Hill
Possibly the most iconic of Pattaya's attractions, the Big Buddha is the biggest in the region at 18 meters tall and is positioned nearly 100 meters above sea level, from where he watches over Pattaya. The temple complex around the intricately decorated and seated Buddha with its meditation bells, burning incense and various statues, invite calm and introspection from visitors. Many Thai Buddhists people come to worship here.
The Nong Nooch Gardens
The impressive and photogenic Nong Nooch Gardens are home to some of the most significant flowers, exhibits and landscaped gardens in Thailand, if not in the world. The team behind them have won international awards for creating 17th-century-French-style gardens, a recreation of Stonehenge, creative topiary displays and focused areas for cacti, bonsais and tropical palms in the gardens. It is also home to over 670 indigenous and hybrid species of orchid. Allow enough time to really immerse yourself in the manicured splendor.
Pattaya Floating Market
Officially known as the Four Regions Floating Market, the development was created to represent the four major areas of Thailand – the north, northeast, central and south. This depiction comes in the form of shops and stalls selling souvenirs, fruit, food, art and handcrafted goods from the regions. There are over a hundred vendors who do indeed float and sell their produce from traditional boats and canoes. There is a stilted village with covered walkways and bridges connecting them. A wonderful place to photograph.
Proudly home to the largest engraving of Buddha in the world, the gold-embossed image was carved out of the side of a limestone mountain with a laser and measures 130 meters in height and 70 meters in width. Found in Silverlake outside Pattaya, an area that is known for its remarkable natural beauty.
The Sanctuary of Truth
An intricate and impressive teak structure, the Sanctuary of Truth depicts the important role religion, philosophy and art has played in human development and reminds not to neglect it in the pursuit of materialism. It is a beautiful representation of human endeavour and skill, especially given that none of the wood used has been treated or chemically protected, and in so is vulnerable and means that as one section is completed, another has succumbed to the tropical conditions and must be replaced.
Silverlake Vineyard
Thailand might not be the first place that comes to mind when thinking of wine production, yet over the last 20 years the Thai wine industry has flourished. One of those making waves is the Silverlake Vineyard at the base of Buddha Mountain. The Vineyard has become a popular tourist destination and offers wine tours, a restaurant, bed & breakfast and shops. Throughout the year it hosts a variety of live performances and musical festivals. Established in 2002 by Mr. Surachai Tangjaitrong and Mrs. Supansa Nuangpirom – a famous Thai actress, Silverlake Vineyard is focused on blending good wine with good music, which is exactly what they are doing.
https://www.silverlakevineyard.com/
Fun in the Sun Water Parks
Pattaya is home to a collection of outstanding water parks, including the largest in all of Thailand, the Ramayana Water Park. Also the ever-popular Cartoon Network Amazone Waterpark with loads of slides and rides to be enjoyed. Both are about 20 minutes from Pattaya City, have on-site restaurants and a range of facilities for the family, making them the perfect place to spend a whole day of fun in the sun.
Mini Siam and Mini Europe
Mini Siam and Mini Europe are of the most popular model villages in the world and feature miniature replicas of famous buildings from Thailand and beyond. These include the Tower Bridge of London, Eiffel Tower, Statue of Liberty, Temple of the Emerald Buddha, Sydney Opera House and the Bridge over the River Kwai. Guaranteed fun for the whole family.
Eating your way around the city
If you travel to eat and eat to travel, don't miss out on the flavours and tastes that Pattaya has to offer. Most restaurants serve a diverse mix of cuisines, including Thai and international foods. The street food and floating market are good places to be somewhat adventurous, but should you prefer a restaurant try the Mantra Restaurant & Bar, a chic and stylish culinary experience on Pattaya Beach Road in Amari Pattaya or Horizon for a sophisticated dinner on the 37th floor of the Hilton Hotel. For an authentic Thai taste, find Mays Urban Thai Dine, where owner and chef May and her team have taken traditional Thai street food and added a modern twist. For a cosy and romantic option, Cape Dara Resort's Radius Restaurant with it's unique views across Pattaya Bay, is a winner.
– There are numerous accommodation options in Pattaya ranging from big hotels and resorts to affordable guesthouses and apartments, most are found right next to the beach.
– The nearest airport to Pattaya is U-Tapao International Airport, which is serviced by Bangkok Airways on their flight that connects with Koh Samui.
– The other option is Bangkok's Suvarnabhumi Airport from where you can take a bus, taxi or and limousine service to Pattaya. The driving time is about 2 hours from the airport.
– There are air-conditioned buses servicing the Bangkok to Pattaya route every day and a ferry service from Hua Hin to Pattaya, which takes about an hour.
– If you opt to visit Koh Lan from Pattaya you can do so as a day trip.
03-Jun-2019
Tony and Elaine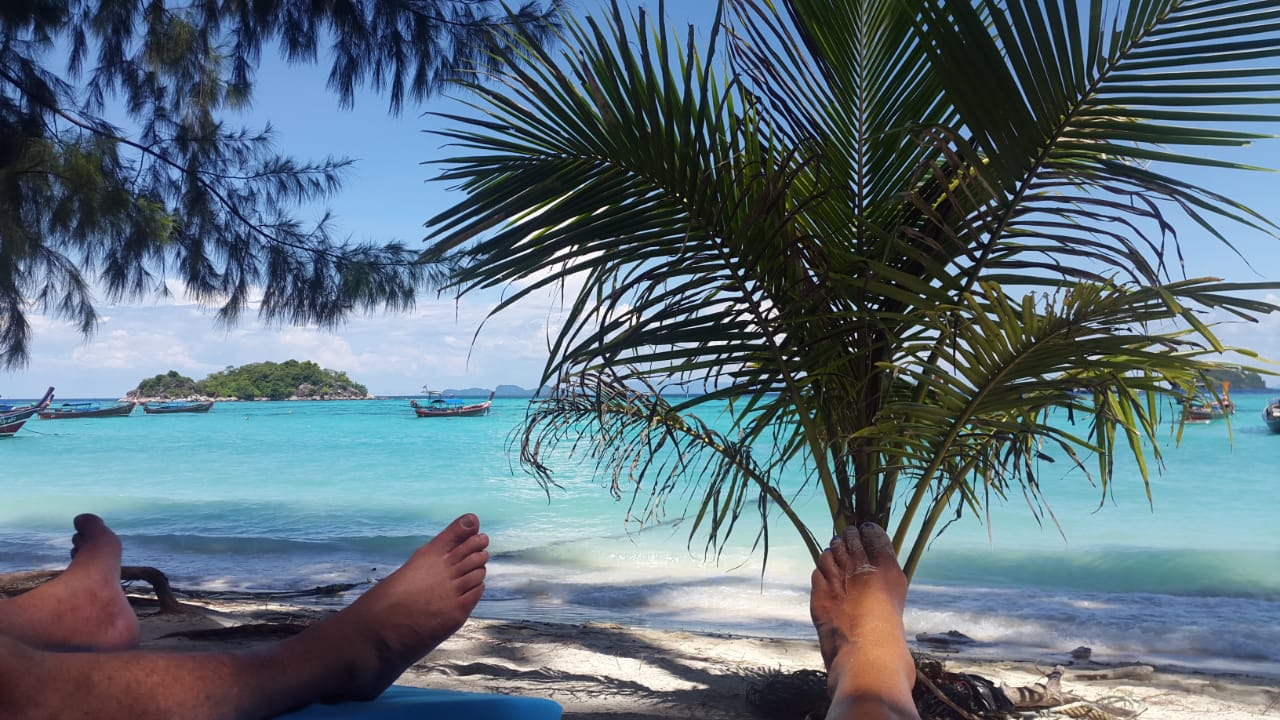 Tony and Elaine So, for our 70th. birthdays, my husband & I decided that island hopping in the Andaman sea would be the best way to celebrate! We started our 25 day trip in Langkawi, Malaysia &am...
Tony and Elaine

So, for our 70th. birthdays, my husband & I decided that island hopping in the Andaman sea would be the best way to celebrate! We started our 25 day trip in Langkawi, Malaysia & had 7 wonderful nights there.
We took the ferry to Koh Lipe to start our Thai island adventure and stayed in a great resort right on the beach (Wapi Resort) on Sunrise beach (the best beach on the island) for 5 nights. The weather was
awesome & the sea a beautiful shade of turquoise. It was great to feel sand between our toes whilst eating some wonderful local food in the many beach restaurants.
We spent a day with the volunteer group
'Do it by heart save Koh Lipe' for a beach clean up & met lots of really interesting travellers on the long tail ride to an uninhabited island & on the beach. We collected 800kgs of trash which we brought back to
Lipe for sorting & recycling. A day well spent & a huge eye opener as to how people around the world are putting so much trach into our oceans!! Next was the long ferry ride to Koh Lanta, but at least we got
to stop off at Bulon, Kradan, Mook & Ngai which are all lovely small islands that, if you have time are a must to stay over on. 10 wonderful days & nights on Lanta's Long Beach (Pra-Ae) @ Peaceful Resort.
Beautifully relaxing, long days on the beach and quiet nights experiencing all the various food on offer in the many beach & roadside restaurants. Next stop Koh Ngai for 3 nights! Ngai is a short ferry trip from
Saladan Pier in Lanta & we should probably have visited this tiny island on our way from Lipe instead, but nevertheless we enjoyed the ferry ride and our stay in a beach chalet there at Koh Hai Fantasy Resort
was idyllic. Getting to Krabi airport took a while, so we should have finished our trip in Lanta instead, but we so enjoyed every minute of our trip that we were sorry to say goodbye to the Land of Smiles. We'll be back!!!
31-May-2019
Ko Lan off Pattaya's coast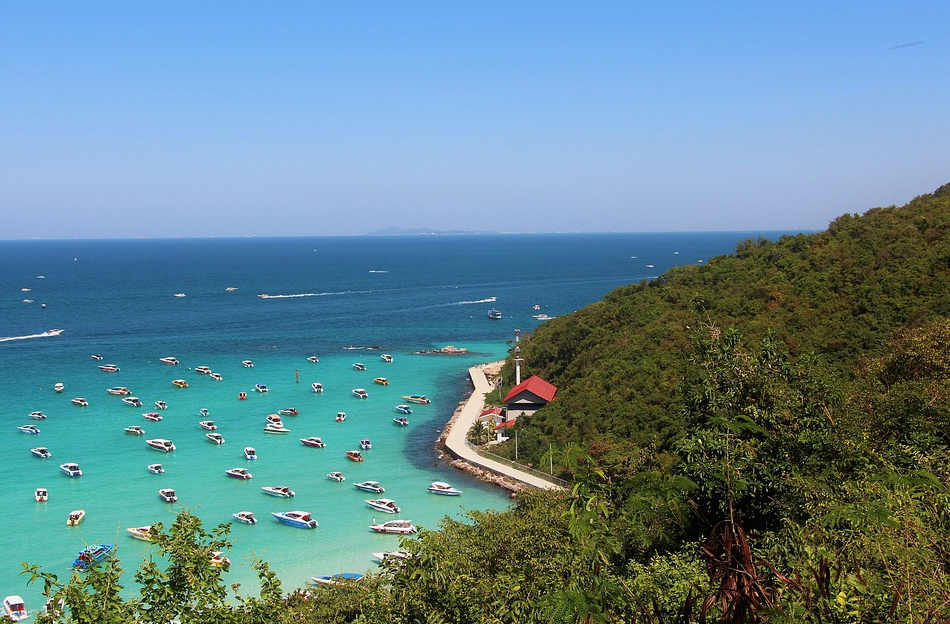 Ko Lan off Pattaya's coast Most visitors to Pattaya opt to hop across and spend time on Ko Lan, a small Thai island just 7km off the coast in the Gulf of Thailand. Ko Lan is home to bea...
Ko Lan off Pattaya's coast
Most visitors to Pattaya opt to hop across and spend time on Ko Lan, a small Thai island just 7km off the coast in the Gulf of Thailand. Ko Lan is home to beautiful beaches set against a backdrop of heavily forested hills and has a network of narrow roads that connect its villages, jetties and shorelines. Also known as Coral Island, Ko Lan measures just four kilometers long and two kilometers wide.
Restaurants and small stores service the various beaches and the island is close enough to Pattaya to be
enjoyed as a day trip. Beach chairs are available for rent and there are plenty of activities on offer. Besides swimming, sun tanning and relaxing on the beach, visitors can ride a jet ski, go snorkeling or kayaking or even hike in the islands interior. There are hotels and bungalows at several of the beaches should you want to linger longer.
Ko Lan's best beaches are found on the West side of the island. There are four main beaches and a few that are lesser known and quieter. The least visited beaches are the ones to look out for. Tawaen Beach and Samae Beach are among the best known on the island and there are several resorts here catering to tourists.
Coral Beach, Ko Lan's namesake is all about calm azure blue sea and has a long stretches of pristine undeveloped coastline offering a little piece of paradise and perfect retreat from the crowds.
Slightly shorter than Samae and Tawaen, Tien beach has a beautiful stretch of white sand, clear blue waters and is lined with palm trees. Tien is one of the quieter and most romantic beaches on the island. A secluded spot it offers a peaceful tropical atmosphere and shelters one of the best snorkeling spots on the island with coral and marine life congregating just off shore.
For the best views of Ko Lan, head to Khao Nom viewpoint near Samae beach, which offers great views of the island's forested hilly interior, Samae beach, the ocean and several small islands in the Gulf of Thailand. If the weather is clear, you can even see as far as Pattaya.
Other activities such as parasailing from a floating jetty halfway between Pattaya and Koh Larn will appeal
to the adrenalin seeker. A speedboat will pull the parachute into the air give you a thrilling ride high above the waters. Underwater sea walking plunges you into the blue waters of Ko Lan to explore the seabed and discover the varied marine life off the island. Scuba diving and snorkeling is also on offer.
All these activities are hungry work and you would do well to find a fine fish restaurant at the pier or along the beaches. Otherwise select from the fine dining options, or small local restaurants for something more traditional, whichever you prefer.
Getting to Ko Lan from Pattaya is very easy as there is a ferry every half an hour from the city's main port directly to the island. If you are exploring the island on your own, you can hire a scooter to get to the beaches, otherwise take the blue shuttle buses or 'songtaews' that service the route between them. The island's main village is Na Ban, where most of its local residents live and is where the ferry docks.
Useful Tip: Pack a waterproof camera to capture some of the underwater magic.